The Choice of over 90% of Tokyo Participants!
Over 90% of participants in Tokyo chose the ULTIMA Recurve Rest as their arrow rest. Find out why the vast majority of top-level archers chooses ULTIMA as one of the most integral parts of their setup!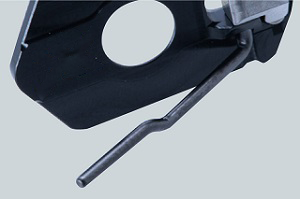 DLC
※1

-coated Offset Support Arm
The Ultima Recurve Rest's Support Arm makes use of DLC-coating – a technology offering superior material strength and friction properties, applied in fields such as parts for racing engines. As a result, the energy loss inflicted on an arrow gliding over the arm is reduced to the bare minimum. The Support Arm's Offset construction guarantees no contact with the cushion plunger's barrel, even when used with the smallest diameter shafts.
※1: DLC (Diamond-like carbon): A coating of amorphous carbon,
granting exceptional hardness, wear resistance, and slickness
(low coefficient of friction).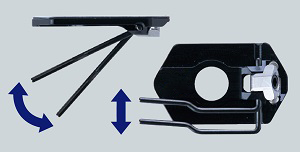 Dual Adjust System for perfect clearance
The Ultima Recurve Rest is adjustable not only vertically, to ensure compatibility with any size arrow shaft, but also horizontally to compensate for sight window depth and plunger settings. There is no need to ever cut or bend the support arm again! Adjustments are easy to make with one screw, even when the arrow is rested on the support arm.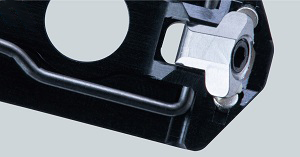 CNC
※2

machined for unrivaled precision manufacturing
By employing CNC milling, Shibuya was able to reduce dimensional error margins to an unprecedented minimum. The innovative "V-lock" Magnet configuration ensures smooth, repeatable movement that eclipses everything the market has seen to date!。
※2: CNC (Computer Numerical Control): computerized automation of machine tools such as milling machines.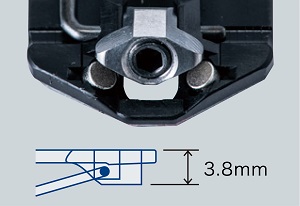 SHIBUYA's V-Lock System – unrivaled precision and repeatability
The line of magnetic force between the Ultima Recurve Rest's dual magnets catches and returns the Support Arm safely and repeatably, exponentially increasing the reliability of the rest. Shibuya uses only highest quality corrosion-resistant samarium cobalt magnets, known for their constant magnetic force independent of temperature changes.
By placing the adjustment screw between the magnets, Shibuya was able to maintain a super-slim construction (only 3.8mm including adhesive tape), while at the same time using a 3mm screw for comfortable, safe adjustments.
Industrial-strength adhesive tape
For attachment to the bow riser, Shibuya is employing industrial-strength double-sided adhesive tape from a trusted maker. The flexible, thick tape is ideal for ensuring a lasting and reliable bond. The hole is matched to major manufacturers' plunger dimensions, which makes precise attachment easier than ever.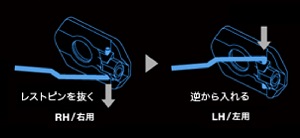 Ultima Recurve Rest can be switched between RH and LH simply by reversing the support arm's fastening direction.
Development for the ULTIMA Recurve Rest started by identifying popular features and common issues with the best-selling rests on the market. Our top priority was making the rest body as thin as possible, to enable optimal clearance. Next on the list was for this to be one rest to fit all bows and arrows, by allowing continuous vertical and horizontal adjustment without placing unnecessary load on the arrow.
The "V-Lock" system, designed to achieve both slimness and functionality, features two magnets arranged in a V-shape, resulting in outstanding repeatability, as well as the ability to continuously adjust both horizontal and vertical arm position with a single hex wrench. For the support arm, we developed an offset shape to avoid clearance issues with the plunger. DLC coating, with its superior friction coefficient, supports the arrow shaft without causing excess energy loss upon the shot.
The ULTIMA Recurve Rest, a mere 2.5cm in length, embodies many more ideas and technologies than it lets on. Even more than 10 years after its release, it is the pinnacle of recurve rest technology, and trusted by the vast majority of the world's top Recurve archers.