Still the choice of top archers around the globe, since 1999.
Polycarbonate parts in windage unit are half the weight of aluminum!
Simple rack-and-worm elevation system provides the base of an incredibly light weight sight.
DUAL CLICK sights use the same extension- and mounting system as ULTIMA sights.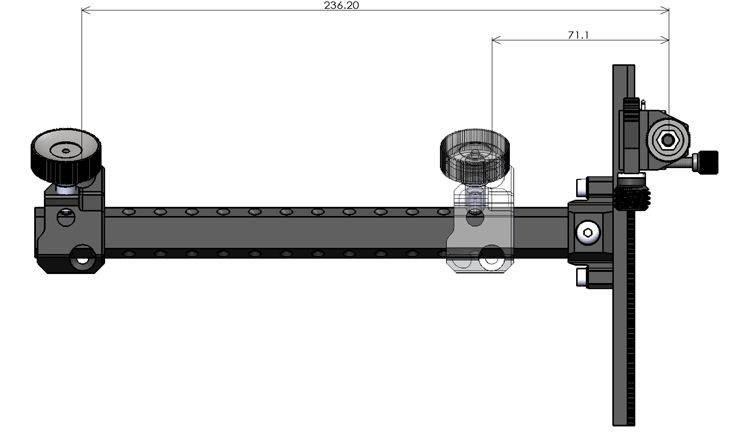 Standard Model
Weight
197g
Aperture Distance (APD)
MAX 232mm MIN 80mm
Elevation
Adjustment Model
Lockable Rack-and-worm drive with quick adjust function.
Length
145mm(approx. 5.7")
Adjustable Range
approx. 106mm
Adjustment Increments
2mm per revolution (approx. 0.08")
0.2mm per click (approx. 0.008")
Tilt Adjustment
adjustable
Windage
Adjustable Range
6.3mm
Adjustment Increments
1/32" per revolution (approx. 0.8mm)
1/320" per click (approx. 0.08mm)
Compatible Apertures
No.8-32 threaded sight pins
Extension
Length
225mm(approx. 9")
Adjustable Range
6"(approx. 152mm)
Adjustment Increments
1"(approx. 25.4mm)
Material
Elevation
6000 series aluminum alloy
Windage Unit
6000 series aluminum alloy
Extension
6000 series aluminum alloy
Colors
Black, Silver, Blue, Red, Gold
RH/LH
available
Release Date
1999
Included Accessories
Soft Sight Case
No.10-24 mount screws
Hex Wrenches 1.5mm/2mm/3mm
Instructions Sheet
The DUAL CLICK sight was first released in 1999.
It has gone through several iterations until it arrived at its current version, including one with not only an extension, but even an elevation bar made of carbon fiber.The DUAL CLICK name stems from the micro-adjustability featuring clicks of both elevation and windage.By utilizing a high strength polymer for parts of its sight block, the DUAL CLICK achieved an unprecedented weight reduction at the target end of the sight. With its simple construction and locking mechanism, as well as a low mass weight that allows the user greater freedom in bow balance, the DUAL CLICK has established itself as a perpetual long seller, for over 20 years since its introduction.