The World's most popular Recurve sight–Evolved.
When SHIBUYA introduced the ULTIMA RC sight, we called it "the last sight you ever have to buy." It has earned that moniker, more popular than ever after more than 10 years on the market. However, our engineers have not been resting on their laurels. Based on the feedback of top shooters from all over the world, we have gone back to the drawing board on nearly every part of the ULTIMA RC sight, improving on the little details that make all the difference in a competitive situation.
The ULTIMA RCII retains all the best features of the ULTIMA RC, such as the patented X-Lock system, but offers some new and improved advantages:
Reduced mass weight and fine-tuned weight distribution
Weight is an important factor when competitive archers choose a new sight. The ULTIMA RCII sight weighs in at 204g (7.2oz). Since the bulk of the weight reduction is located at the target side, it feels even lighter once mounted on the bow.
In addition, the lighter weight results in significantly reduced vibration.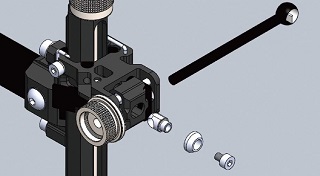 New and improved sight-pin locking mechanism
The ULTIMA RC sight features a simple-to-use sight pin locking mechanism that is easy to tighten with a single screw. However, our engineers still found room for improvement: The UTLIMA RC II employs a new, conical washer to reduce loss of parts, and completely disconnects the screw threads from the sight pin to avoid thread damage or fusing.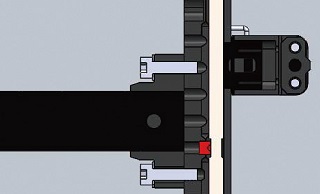 Pressure-insert drive shaft dampening system
Improving on the original ULTIMA RC's drive shaft support, the new dampening system, increasing contact area to avoid unwanted vibrations and sound upon the shot.
As a result, the ULTIMA RC II is the quietest, most consistent sight SHIBUYA has ever built!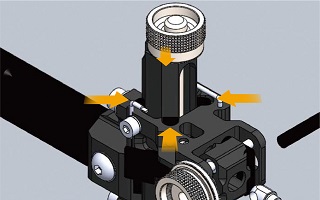 X-Lock System US Pat No. 7,287,335
Re-adjustable, zero-tolerance fit between the windage unit and sight frame. Super-slick and durable polyacetal resin guide spacers enclose the elevation rail, re-adjustable at the turn of a set screw. All parts field-adjustable and -replaceable!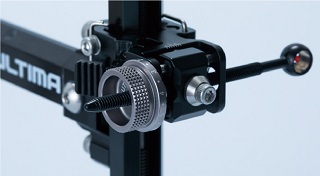 New, maximum grip dial finish
ULTIMA RC II sights feature completely reworked dials and mounting knobs, making every adjustment delightful and enabling the user to securely tighten the mounting knob more easily and securely than ever!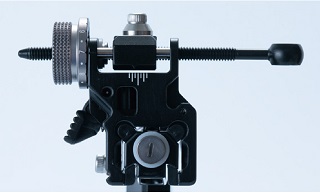 Easy and reliable fine adjustments
One of the most common requests we have had is a windage fine adjustment scale. The ULTIMA II RC sight now features a laser-engraved sight scale to make fine adjustments easier and reliable than ever!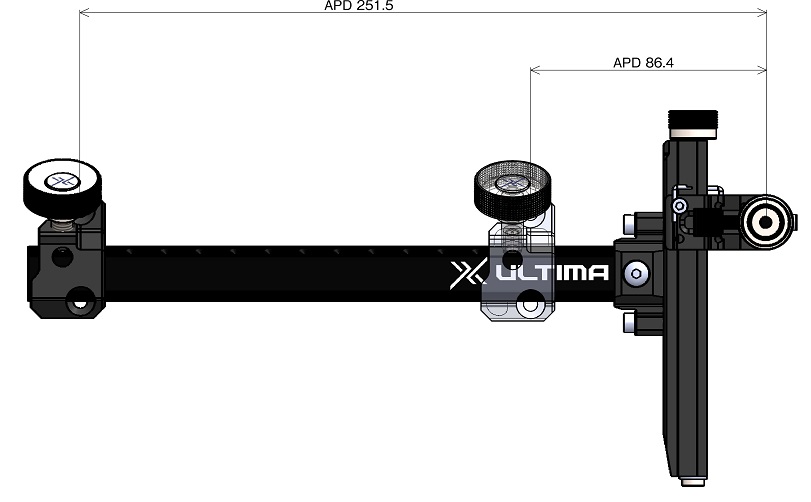 Carbon Model
Mass Weight
201g
Aperture Distance(APD)
MAX 248mm
MIN 83mm
Elevation
Adjustment Model
Screw Drive with No-Lock Quick Adjust Function
Length
123mm (approx. 4.8")
Adjustable Range
approx. 97mm
Adjustment Increments
1/24" per revolution (approx. 1mm)
1/480" per click (approx. 0.05mm)
Tilt Adjustment
adjustable
Windage
Adjustable Range
5.4mm
Adjustment Increments
1/32" per revolution (approx. 0.8mm)
1/640" per click (approx. 0.04mm)
Compatible Apertures
No.8-32 threaded sight pins
Extension
Length
233mm (approx. 9")
Adjustable Range
6.5"
(approx. 165mm)
Adjustment Increments
1/2"
(approx. 12.7mm)
Material
Elevation
6000 series aluminum alloy
Windage Unit
6000 series aluminum alloy
Extension
Carbon Fiber
Colors
Black, Silver, Blue, Red
RH/LH
available
Release Date
2017
Included Accessories
Soft Sight Case
No.10-24 mount screws
Hex Wrenches 1.5mm/2.5mm/3mm
Blank sight tape
Instructions Sheet
User registration card
Separately available
carbon extensions
9"(regular length) part weight 56g total weight 204g
In 2004, we created the ULTIMA RC sight with the promise that it will become "the last sight you ever need to purchase." The ULTIMA RC II is a direct evolution of this sight, based on 10 years of experience and feedback. On paper, it looks like it was a simple weight reduction, but the RC II includes several improvements to the parts of the sight most affected by long-term use wear and tear.
The weight reduction was carefully weighed against the need for toughness and stability, and was achieved by removing material where it didn't impact the sight's integrity. Overall, the sight's mass weight was reduced by 14g, and maintained great serviceability and low vibration. ULTIMA RCII also employs the X-Lock construction first introduced over 15 years ago. The X-Lock has helped win countless medals, and continues to be chosen by top athletes all over the globe, proving it is truly a superior sight block attachment construction.