Proven features from the ULTIMA CPX series, combined with the brand new Polygonal Carbon Extension achieve a brand-new rock solid, dead quiet sight experience!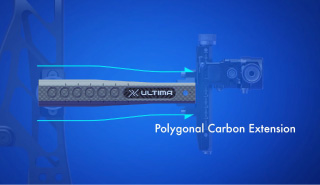 Polygonal Carbon Extension【Patent pending】
ULTIMA CP PRO's carbon extension features a radical new design redefining vibration elimination. The ultimate goal of eliminating vibration through the shape of the carbon extension lead us to a fishing pole taper shape. Through it, ULTIMA CP PRO is able to eliminate over 80% of the initial excess vibration upon the shot.
※By targeting vibration not only through material, but also shape, ULTIMA CP PRO offers a shooting feel like no sight before it.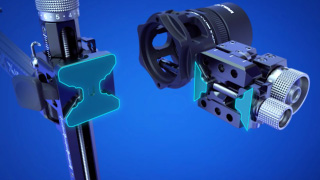 ULTIMA CP PRO includes, for the first time in ULTIMA history, a front detach block. This enables the archer to have multiple scope setups prepared with corresponding second- and third axis settings and windage, and keep the X-Lock slider in place for single-distance competitions.
The ULTIMA CP PRO detach mechanism clamps onto the X-Lock elevation block with two "teeth" featuring polygonal dovetails. The result is a rock-solid connection that will not rattle loose no matter the amount of bow vibration, in a more compact construction than ever before. Tool-less, rock-solid and reliable, leaving the archer with peace of mind to focus on competition!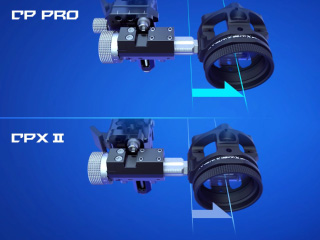 ULTIMA CP PRO builds on the Integrated Offset Mount feature found in the ULTIMA CPXII sights, adding a third offset position. This expands the windage adjustment range by 30%, to fit a large variety of bow riser designs and scope sizes. By integrating the windage offset right at the elevation slider, ULTIMA CP PRO eliminates the need for additional offset brackets, and keeps the scope closer to the windage unit, eliminating excess torque!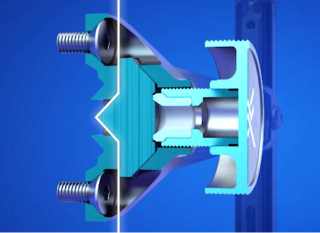 ULTIMA CP PRO features a brand-new mounting mechanism to achieve a more secure lock than ever. By increasing the knob's diameter, and maximizing the contact area with the carbon extension, ULTIMA CP PRO's mount achieves a rattle-proof lock with less effort required than ever. Never worry about the knob coming loose again with this simple yet secure mounting system!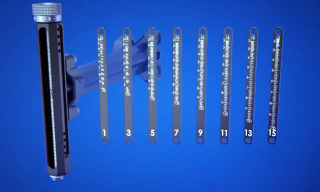 Both sides of ULTIMA CP PRO's elevation bar feature recessed metal sight scale plates. Each ULTIMA CP PRO includes 8 double-sided sight scale plates, for a total of 16 scale options. Printed sight tapes can be used on the blank plate supplied.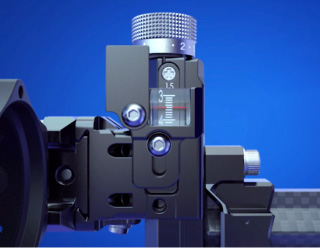 The Scale Magnifier mounts to the flat shelf indicator's groove, enabling higher precision elevation adjustments than ever.
Elevation Type
400
Extension Type
6"Carbon
9"Carbon
Mass Weight
239g
265g
Aperture Distance (APD)
MAX 191mm
MIN 131mm
MAX 265mm
MIN 205mm
Elevation
Adjustment Model
Screw Drive with No-Lock Quick Adjust Function
Length
100mm (approx.4")
Adjustable Range
approx.73mm
Adjustment Increments
1/24" per revolution (approx.1mm)
1/480" per click (approx.0.05mm)
Tilt Adjustment
adjustable
Windage
Adjustable Range
approx.14mm
Adjustment Increments
1/24" per revolution (approx.1mm)
1/480" per click (approx.0.05mm)
Compatible Scopes
No.10-32 threaded scope rods
2nd、3rd Axis
adjustable
Extension
Length
157mm (approx.6")
225mm (approx.9")
Adjustable Range
2.4" (approx.60mm)
Adjustment Increments
0.47" (approx.12mm)
Material
Elevation
6000 series aluminum alloy
Windage Unit
6000 series aluminum alloy
Extension
Carbon Fiber
Colors
Blak, Blue, Red, Gunmetal
RH/LH
available
Release Date
2021
Included Accessories
Soft Sight Case
No.10-24 mount screws
No.10-32 hex nut, adjustment washers
Hex Wrenches 1.5mm/2mm/3mm
Standard sight scale plate
Laser-etched sight charts x 8 (15 custom scales + blank plate)
Blank tape
Instructions Sheet
As the first compound sight of the ULTIMA PRO series, the CP PRO includes several of our most-requested features, such as a front disconnect block, and laser-engraved metal scale plates. Front disconnects are available on many sights.
However, many of the conventional disconnect constructions are prone to rattle loose from the shock and vibration of the bow. We realized that the conventional model was a temporary fix, and we had to design something better to truly create a reliable connection for these parts. To fulfil competition requirements (the sight must not have additional aiming references), the locking mechanism had to easily work from one side of the sight. The locked position had to be perfectly repeatable. After several iterations, the CP PRO's quick change windage construction, comprised of an interlocking, polygonal dovetail, was created, then finalized through months of test shooting.
Even tightened by hand, ULTIMA CP PRO's quick change windage has never come loose in our testing, a testament to the long-term viability of the construction.