Top level performance ergonomics developed
by a Gold Medalist.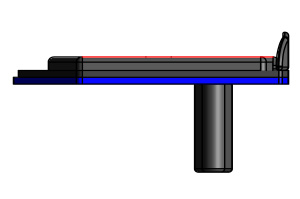 The SHIBUYA Chung-Tae Kim Tab features a completely flat plate design by recessing the finger spacer and anchor pad screws into the plate. By allowing the thumb to tuck in beneath the anchor tab, this design enables the archer to achieve a connected anchoring surface with index finger, anchor pad, and thumb. Anchoring has never felt more natural!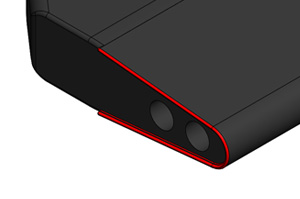 The construction of the Finger Spacer prevents it from tilting, eliminating inconsistency resulting from the angle shifting during use.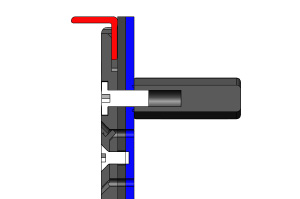 Internal Mount Anchor Pad
The SHIBUYA Chung-Tae Tab's Anchor Pad is anchored in between the plate and leather. The archer is able to achieve a consistent anchoring surface to the fingers. The anchor pad naturally moves out of the way, enabling smoother anchoring than ever. The tab plate is covered by the anchor pad, eliminating the need to alter it in order to not protrude from the anchor pad.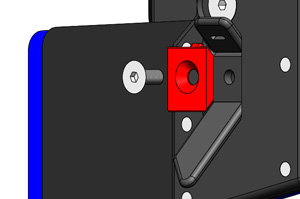 The SHIBUYA Chung-Tae Tab's Finger Tape is fastened by a wedge plate, enabling the archer to adjust it seamlessly to their liking.
Mass Weight
approx. 67g / M:approx. 73g / L:approx. 78g
Anchor Pad
Type
Internal Mount Anchor Pad(pat.pend.)
Size
30.7mm×11.3mm
Adjustable Range
approx. 2.8mm
Tilt Adjustment
Available
Finger Spacer
Type
TiltLok Finger Spacer(pat.pend.)
Adjustable Range
approx. 9mm(2 screw positions 6mm apart, 3mm slide adjustment)
Finger Loop Stopper
Type
PlateComp Finger Loop
Type(R)
For Finger Loop Rubber(included)
Type(C)
Compatible Belt Thickness 0.8~1.2㎜
Compatible Belt Width 8~10㎜
Material
Face Leather
Chung-Tae Kim TAB Original Cordovan Face
Back Leather
Cowhide (Blue)
Plate
Finger Loop Stopper
7000 Series Aluminum
Anchor Pad
Finger Spacer
6000 Series Aluminum
Finger Loop Rubber
Finger Spacer Rubber
Silicon Rubber (Matte Finish)
Color
Black (Blast, Anodized)
Size
S(Download)M(Download)L(Download)
RH/LH
Available
Release Date
2019
Included Accessories
Hex Wrench 2mm
Finger Loop Stopper(C)
Finger Loop Rubber
Anchor Pad Slim
Finger Spacer Rubber
Instruction Manual
The development of the Chung-Tae Kim Tab started with the need to respond to a feature request from an Olympic Gold Medalist. Iterating through multiple prototypes, we strove to develop the "flat design" we had envisioned together. This resulted in a never-before-seen anchor pad construction, requiring all-custom screws.
Our experience with machined metal parts made the main frame an easy task, however there was a part of the product we had no expertise in: selecting and processing world class cordovan leather. Partnering up with one of the world's best tanneries, we went through multiple stages of prototyping and testing to arrive at the final product. The resulting leather is soft and provides minimal resistance, while also being very consistent. In particular, we placed a high importance on consistent leather thickness, which is often a problem with competitor products. The Chung-Tae Kim Tab is a deceptively simple looking product, including innovation and special features second to no tab on the market.

TAB
The SHIBUYA Tab is used and loved by countless archers, from beginner to top athlete.
It bears a simple construction, but the materials used are top of the line!
| Type | SHIBUYA TAB |
| --- | --- |
| Quality | High Quality Cordovan |
| | RH/LH |
| Sizes | S, M, L |