This state-of-the-art compound scope was developed with utmost care for balance, enabling it to fit to any configuration.
The brand new Gravity Shift technology enables the scope to compensate for shifting center of gravity when using the large variety of accessories, such as sun shades and decal rings. OKULUS strikes the balance for a wide array of use cases.

Various accessories available.
※Sold separately.
Usable with genuine accessories, such as Sun Shade, Back Sun Shade, Decal Ring, and Fiber Kit.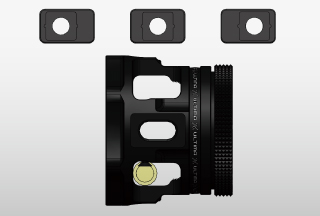 Compensates for the weight of the optional sunshades and decal rings by shifting the scope housing's center of gravity.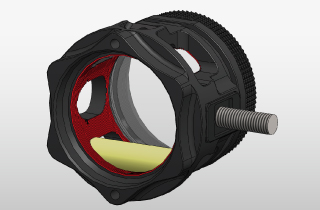 OKULUS features anti-reflective grooves, as well as matte anodizing to minimize glare inside the field of view.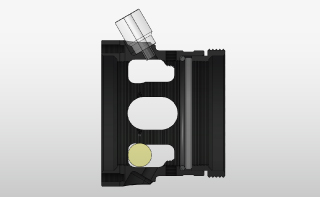 Compatible with Sight Lights
OKULUS features multiple 8-32 threaded attachment holes for popular sight lights. The 45-degree angled mounting hole enables the archer to aim the light at the center of the lens when using a reticle decal.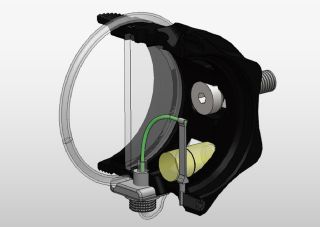 Three popular fiber sizes
The ULTIMA OKULUS Fiber Kit (sold separately) is available in .010", .019", and .029" to fit a wide variety of shooting styles. Protective tubing included.
mass weight
Housing Set
33.7g (Lens not included)
Front Sunshade
11g
Back Sunshade
8.2g
Decal Ring
7.2g
Active (inside) diameter
29mm(27mm when used with front sunshade)
Compatible Sights
Sights with No.10-32 scope thread
Scope Attachmen
Adjustability
Available (GRAVITY SHIFT)
Adjustment increments
2mm
Adjustment Range
4mm
Sight Light Attachmenth Angles
vertical, 45degrees angled
Lens
Type
Feather Vision Vitri Lens,Verde Plus Lens (sold separately)
Lens Diameter
32mm
Lens Diopter
+.50, +.75, +1.00(+.25, +.37, +.62, +.82 available for special order )
Material
Housing
2000 series aluminum, color anodized.
Machined anti-reflective grooves.
Lens Retainer Ring
Front Sunshade
Back Sunshade
Decal Ring
Scope Rod
Stainless Steel
Level
Yellow (Red available separately)
Color
Black
Release Date
2020
Included Accessories
GRAVITY SHIFT Balance Plate A, B
Scope Rod (short, long)
No. 10-32 Hex Nut
3/32" Hex Wrench
Dual Color Dot Package
Instructions Sheet
Options
Front Sunshade
Back Sunshade
Decal Ring
Fiber Kit (thicknesses: 0.010", 0.019", 0.029")
Scope Level RED
The ULTIMA OKULUS scope's name derives from the Latin word for "eye," Oculus.
There were several issues with existing scopes on the market, which we wanted to address when developing OKULUS. Many scopes on the current market feature sunshades and other accessories, and we considered them a must-have for any new scope. OKULUS features all of these common accessories.
However, attaching these accessories shifts the balance of the scope as a whole, and through prolonged shooting vibration may weaken its attachment points, and even tilt the scope. In order to allow the new scope to mount securely and without tilting even on other manufacturer's sights, we developed the GRAVITY SHIFT system, which allows OKULUS to shift its center of gravity to match the attached accessories. By matching its center of gravity to the scope rod attachment point, torque resulting from the shot is reduced to a minimum, resulting in a drastic reduction of vibration.
ULTIMA OKULUS features glare-reducing grooves machined into the interior of the scope housing and accessories, which are oriented to match the direction of reflected light. Additionally, it features light absorbing matte anodizing, a rarity among archery's mostly reflective anodized products. Both of these characteristics work together to achieve unprecedented reflection reduction.
Try it out by viewing the scope facing the opposite way – you will notice the difference in reflection right away.